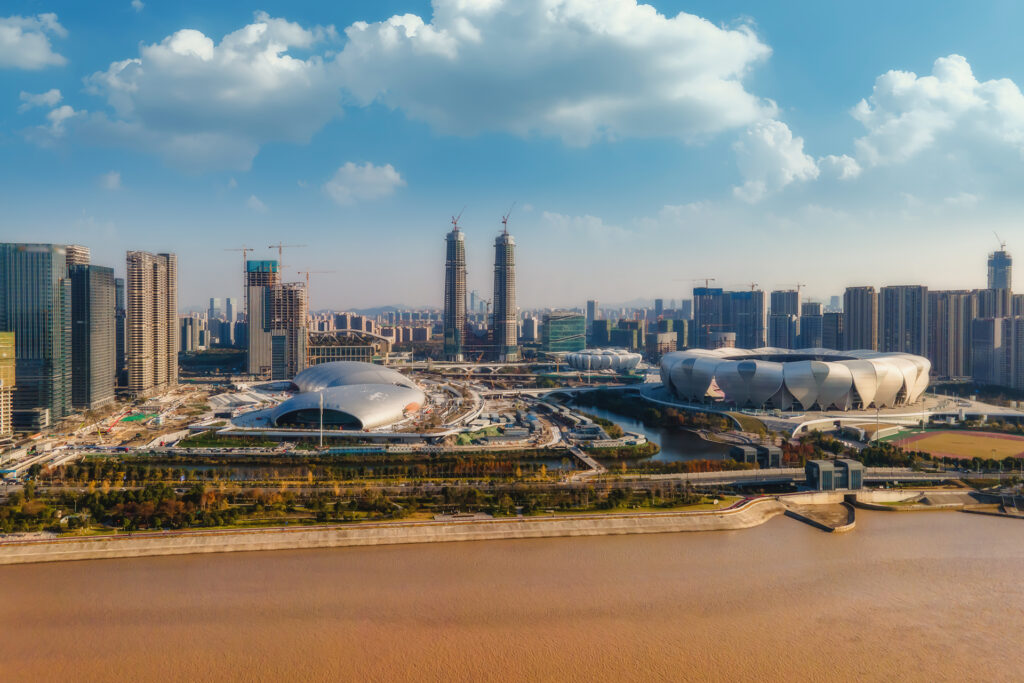 OōEli is an iconic integrative art park covering about 230,000 square meters located in Hangzhou, Zhejiang Province of China. Comprehensive master plan development by the prestigious Pulitzer Prize winner, Renzo Piano with JNBY and GOA features offices, art museums, art centers, show fields, design hotels, and art commerce. GOA acted as the executive designer of the entire park, which has provided OōEli a wide-ranging and organized technical impetus for more than seven years.
Highlights on Design and Concept
Space and communication are the core values for the conceptualization of OōEli, an oasis-like "city parlor" with an artistic perspective where simultaneous activities can take place. Originally, Renzo Piano envisioned this development as an apple with a soft and rich core, wrapped in a solid interface, but transitioned a plan to bring in more air and sunlight to the square. This was done by reducing the original 11 floors to 9 floors, ensuring adequate light in every corner of the setback terraces on the 7th and 8th floors.
On the path, architects designed eight transfer elevators in four sites around the courtyard. People must first reach the ground floor from the underground garage and then go through the courtyard to enter the office building. When the glass elevator car rises slowly above ground, people are welcomed by the natural environment of the central square, the accent piece of the whole park. Depending on seasons, OōEli will invite diversified artists to showcase sound art in the lift car every year to increase visitor traffic.
Unveiling Green Core
OōEli takes pride in its "Green Core", a three-dimensional structure, which is presented from bottom to top at diverse elevations: sunken courtyard, ground vegetation, reflecting pool, external flower pot on the terrace, and tea garden on the roof. Paul Kephart, an American plant ecology expert, designed the Plant Landscape area. The green landscape extends from the underground to the ground and climbs up along the building's exterior to the roof. As the fifth facade, the roof is banked with green tea trees, a prominent tree species in Hangzhou. The operation team selected two tea selections for the tea garden – Longjing No. 43 and Anji White Tea, which both have strong adaptability and can grow both in nature and cities.