A design exhibition titled "Window on the Future – Gaudí Meets 3D Printing" will be held at Tokyo Midtown from October 15 (Fri.) to November 3 (Wed., holiday).
This is a project by Mr. Keita Suzuki, a creative director who inherits the spirit of "co-creation" (creation through trial and error with experts in various fields) of world-famous architect Antonio Gaudi, and YKK AP Inc, which designs, manufactures, installs, and sells windows, sashes, shutters, and other products used in homes and buildings. This is an exhibition of new window prototypes created by specialists in various fields who agree with the purpose of the exhibition, transcending national boundaries and genres, using the latest 3D printing technology to create "window on the future". GARDE is participating in this co-creation as a production partner.
We are very much looking forward to this event to see how the "windows" that we encounter every day are expressed by the hands of up-and-coming creators, and what kind of future they will lead to.
YKK AP's special website "Window on the Future – Gaudí Meets 3D Printing";
https://www.ykkap.co.jp/consumer/satellite/sp/window-future/en/
With this in mind, we decided to take this opportunity to do some research on windows.
First off, when we talk about windows, window glass comes to mind, right? However, it was not until the 17th century that ordinary people in the West were able to use them. When you consider the many functions that windows and windowpanes can perform in combination, such as letting in light, ventilation, security, privacy protection, prevention of noise intrusion and outflow, and pest intrusion, you can't help but be deeply moved by the concept of windows.
Windows play a functional role as well as a decorative role. Have you ever had the experience of walking down the street and encountering a window with a beautiful design, an unusual shape, or a beautifully polished window, and your eyes and mind are drawn to it?
This time, we would like to introduce you to some buildings with distinctive windows and the spaces created by them.
■Torre Agbar (Barcelona, Spain)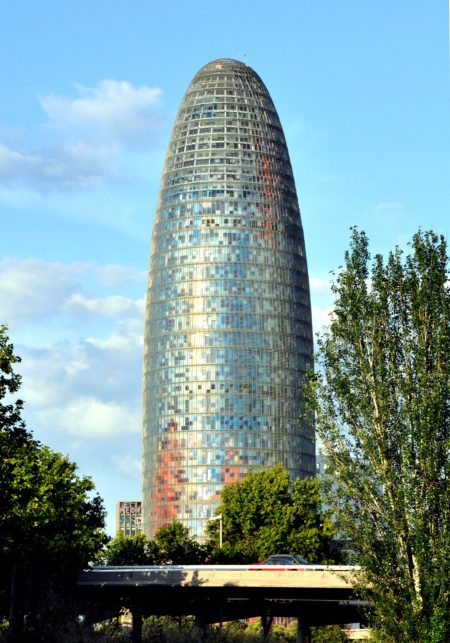 Torre Agbar is a cylindrical building of the Barcelona Waterworks Authority located in Barcelona, the northeastern part of the Kingdom of Spain, where many medieval buildings such as the Sagrada Familia and other beautiful churches remain, as well as the Miró Museum, which houses the works of Joan Miró, one of Spain's most famous artists, and the Pablo Picasso Museum, which attracts many tourists to the cultural city.
The 4,500 glass blinds that cover the exterior walls open and close in conjunction with temperature sensors. The blinds are designed to block sunlight in the summer and let sunlight in in the winter, thereby saving the maximum amount of energy for heating and cooling. The walls of the building are designed with more red near the ground and more blue towards the sky. The image colors of the facade are fire and water covered with glass that sparkles in the light. The 4,500 LED lights corresponding to the glass blinds can be computer-controlled to create illumination in over 1,500 different colors. The building has become a landmark of Barcelona and is also used for seasonal and event-based performances.
■ Waldspirale (Germany)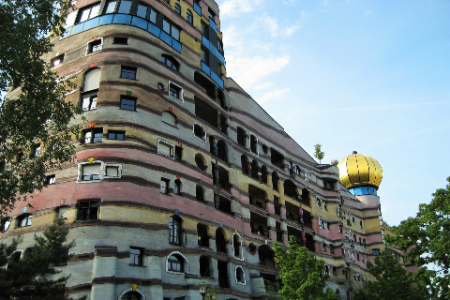 Designed by Austrian architect Friedensreich Hundertwasser and his last work, "Waldspirale" ("forest spiral", in English) is a 12-story residential complex with 105 units built between 1998 and 2000. Its unique form, devoid of any inorganic straight lines, is a testament to Hundertwasser's lifelong attempt to express the nature he admires. In addition to its form, the building is characterized by the fact that it has more than 1,000 windows, none of which are the same shape. Some of the windows have trees sticking out of them, and there are highly artistic designs scattered throughout that overturn the concept of architecture and windows.
At first glance, the colorful wall decorations and golden crowns might make you think that the castle is something out of a fairy tale or fable. The open café and bar at the top, the small pond and children's playground in the courtyard, and the way Hundertwasser coexisted with people and nature based on his free sensibility are truly masterpieces that he left behind in this world.
■Enso(Japan)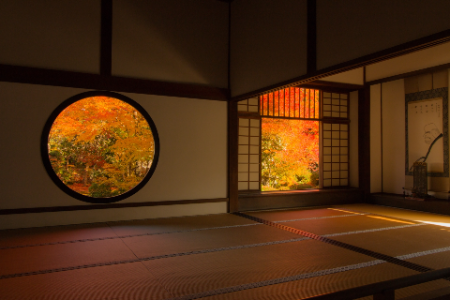 Lastly, we would like to introduce traditional Japanese windows. There are many types of windows that do not ring a bell just by hearing their names, such as musō,  kushigata windows, shitaji windows, renji windows, hasou, wasure windows, shishigaki windows, etc. but their types and designs are truly diverse. The designs are not as flashy and eccentric as those of foreign countries, but they show the sensitivity of the Japanese people, who live emotionally rich lives, feeling the changes of the four seasons with their five senses. Among the traditional Japanese windows, I would like to introduce you to the enso, which is relatively easy to see.
 Enso is a circular window that has been used in many traditional Japanese buildings, including temples and Buddhist shrines. Famous examples include Meigetsuin in Kamakura, Genkoan in Kyoto, and Fundaiin, which has a garden created by ink painter and Zen monk Sesshu. The best time to visit is during the season of fresh greenery and autumn leaves at Meigetsuin and Genkoan, and on snowy days at Fundaiin, when the dead trees in the garden are covered with snow and the scenery resembles a Sesshu ink painting.
Traditional Japanese windows, while enclosed in a walled room, skillfully bring the scenery seen through the window, borrowed scenery, into the room, creating a space that looks like a painting framed by a picture frame.
■Sources
https://www.chuko.co.jp/ebook/2013/07/513907.html
https://www.atlasobscura.com/places/waldspirale
https://rtrp.jp/articles/49980/