Following the opening of Beijing Daxing JOY BREEZE in December last year, Suzhou JOY BREEZE opened on September 25, 2021.
Suzhou JOY BREEZE is a large-scale residential and commercial complex located in the rapidly developing north Suzhou area, offering a high quality and sophisticated lifestyle to rich and new generation of families in their 20's and 30's. It offers a variety of tenants, including domestic and foreign luxury brands, leisure, entertainment, and restaurants. The basement floor is directly connected to the subway and has a parking lot with a capacity of over 4,000 cars. As a shopping mall that plays a role in the revitalization of the area, it blends in with the rich nature of the surrounding area to form a town.
GARDE, as with Beijing Daxing, was involved in the basic planning, basic design, implementation design, supervision, and construction coordination of the interior design, and incorporated a lot of FFE furniture and green plants.
The design concept is "Connected". Based on the "aesthetics of transcending space" found in Japanese architecture, the outside and inside are not strictly separated. Rather, by creating a space with a harmony of richness, comfort, and pleasant atmosphere, a commercial space that feels like and coexists with nature is achieved.
The sense of fluidity and dynamism in nature is expressed in the motifs of "Flowing," "Natural," and "Organic," which can be considered the DNA of JOY BREEZE. The three large atriums catch the eye in the building and create a beautiful and dynamic space with delicate details based on the design theme of "flowing water", "flowing wind", and "pulsating earth". By creating three different scenes, visitors will never get bored and can enjoy walking around the building.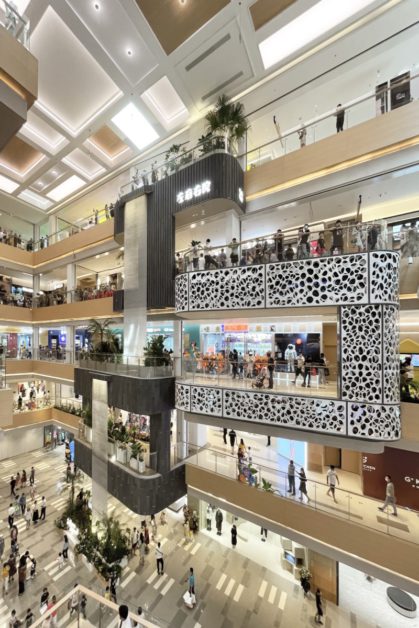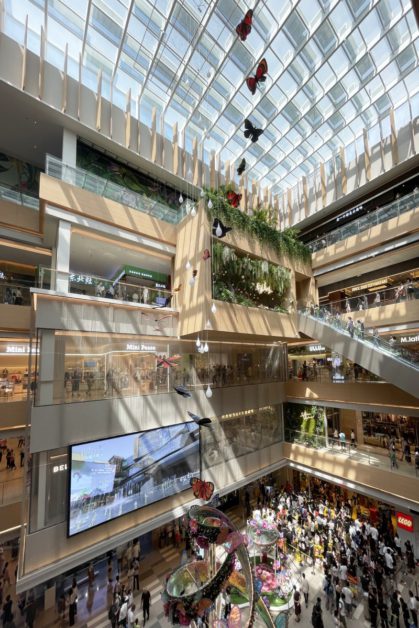 Scope of work
Interior design: basic planning, basic design, implementation design, supervision, construction coordination
Other FFE proposals
Property Information
Name: Suzhou JOY BREEZE
Official opening: September 25, 2021
Location: Xiangcheng District, Suzhou, Jiangsu, China
Management floors: 6 above ground, 1 basement floor
Building area: approx. 180,000m2 (approx. 30,000m2 for indoor common areas)