Antique, art, furniture and fabrics that tell the story of Asian heritage and culture, enliven modern spaces.
ANTIQUE CERAMICS AND PORCELAIN
China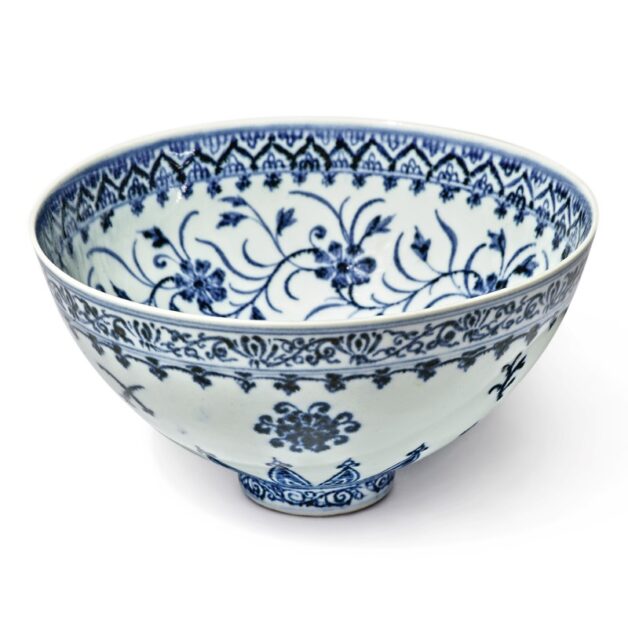 Blue and white floral bowl from the Ming Dynasty sold on auction for USD721,800 at Sotheby's.
CHINESE ANTIQUE CERAMICS AND PORCELAIN are stunning art pieces beloved by taste makers for their craftsmanship, elegance, and beauty. Of all the Chinese antiques, vessels and ceramics are the most popular and highly prized. Precious porcelains that date back to the Ming Dynasty were made in the porcelain town of Jingdezhen, Jianxi Province. They are considered the most superior of all the antiquities from the region.
These distinctive blue and white jars and vessels are characterized by intricate depictions of daily life, nature, and the times. Art and antiquities experts describe them as elaborate compositions that "convey and glorify that majesty and benevolence of the Ming Dynasty." At Sotheby's, avid collectors of blue and white Ming porcelain can access these precious pieces of Chinese art. Through the work and research of its global Chinese Ceramics and Works of art department, the revered auction house has managed to grow a collection of over 1,300 rare porcelains and antiques. Bidders from all over the world can also access these iconic gems through dedicated live and online auctions. 
BONE INLAY FURNITURE
India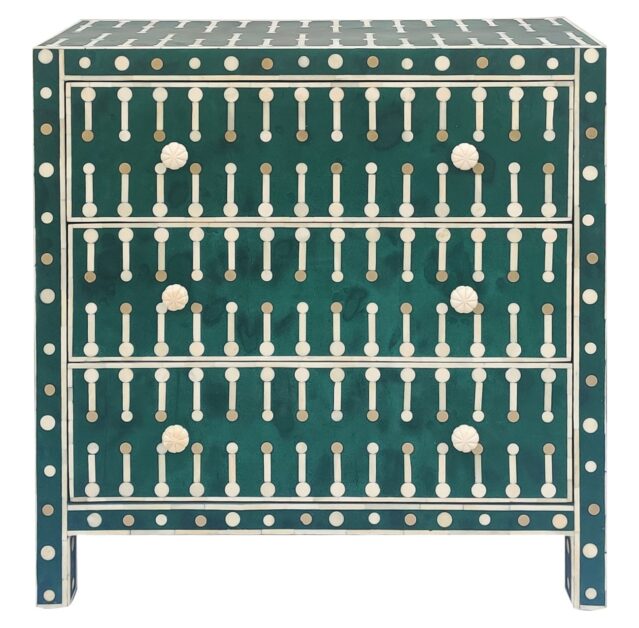 INDIAN BONE INLAY is an ancient art form that originated in the Rajasthan region of India. These meticulously handcrafted pieces, similar to marquetry, were first made solely for the royal palaces and maharajas. This revered craft has been passed down through generations, taking at least a month to reach completion. The meticulous process begins with shaping of fragmented bones into the design. Each shaped bone is then attached onto the surface, piece by piece. To fill the empty spaces and create evenness on the surface, colored resin is poured as the finishing layer. The result is a mosaic-like visual narrative that brings centuries of culture and art to life.
As more modern homes adapt to minimalist and contemporary sensibilities, designs for bone inlay furniture have also evolved. Artisera, a curated space for Indian furniture, antiques, and fine art from India, showcases a more contemporary take on bone inlay furniture. Decidedly streamlined and intended for living spaces of today, patterns are more subdued and geometric. Often, they draw from the shapes and forms of the art deco movement. Similarly, color ways hint at modern French interior design palettes. From bedside tables, to consoles and lower coffee tables, the modern iterations of inlay furniture are striking accents that lend eclectic flair to well-designed spaces.   
SILKS AND OBIS
Japan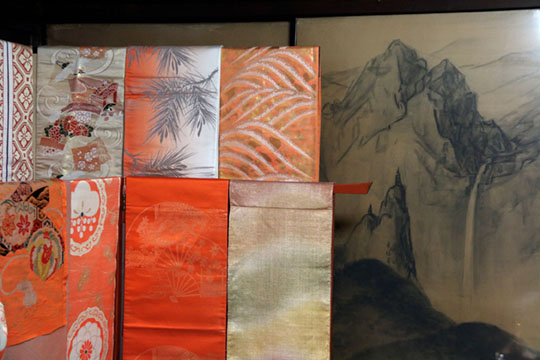 JAPANESE SILKS AND OBIS echo an approach to luxury that is distinct only to Japan. Instead of gold and gems, the affluent were have said to distinguish themselves through the kimonos and fabrics they wore. These beautifully woven and embroidered silks, referred to as Nishijin were regarded as jewelry and used to dressed nobles of Kyoto's imperial courts. There are countless other tales, best told through silks, kimono, and obis, that echo Japan's rich history. While these narratives go as far back as 1,200 years, they continue to live on through emerging designers.
Mikan, an up-and-coming sustainable brand founded by French designer Clementine Sandner, was born out of a passion for antique Japanese kimonos. Since relocating to Japan in 2016, the founder and designer has been collecting pre-loved textiles from across the region and repurposing them into beautiful pieces. Clementine shares, "In Japan, as in most countries, the younger generations tend to lose interest in national costumes. With the modernization of Japan, people switched to western clothing, leaving behind beautiful and precious hand-woven fabrics, resulting of a precious heritage passed on through generations. Mikan looks at these discarded kimono and obi like treasures from the past and brings them back into a new life."
Although primarily a maker of bags, Mikan has recently expanded into the home décor realm. Panels of rare kimonos or silks are hung all throughout the Kyoto-based studio. Like landscape paintings, they light up the space and serve as windows to the past. Clementine adds, "I wanted to create pieces that also decorate the room. During an exhibition I had in Kyoto, I hung more than 30 pieces of obi around the gallery so people could walk around the enjoy the beauty of the materials."
Reference:
https://www.studiointernational.com/index.php/treasures-of-the-ming-dynasty-are-unearthed-in-jingdezhen
https://www.worldhistory.org/Ming_Porcelain/#:~:text=The%20Ming%20dynasty%20is%20rightly,countries%20from%20Japan%20to%20Britain.
https://www.history.com/topics/ancient-china/ming-dynasty
https://www.mikanbags.com/
https://www.sothebys.com/en/sell/sculpture/chinese-antiques
https://www.artisera.com/collections/bone-inlay-furniture
https://www.architecturaldigest.com/story/indian-craft-ones-to-watch
https://www.architecturaldigest.com/gallery/exotic-design-roundup-slideshow
https://www.fentonandfenton.com.au/pages/all-about-bone-inlay#:~:text=The%20time%2Dhonoured%20art%20of,of%20a%20three%2Dstep%20method.
http://craftsmartindia.blogspot.com/2016/02/the-timeless-art-of-bone-inlay.html
https://www.nytimes.com/2020/12/02/fashion/craftsmanship-kimono-silk-hosoo-kyoto-japan.html
https://www.nytimes.com/2014/12/26/arts/design/kimono-a-modern-history-at-the-met-tells-rich-stories-through-fabric.html
https://en.wikipedia.org/wiki/Jingdezhen_porcelain