GARDE carried out the grand opening of HOTEL ARU KYOTO on Sanjo-Kiyamachi Street in Kyoto in July 2021and was involved in the conceptualization of the façade, planning, basic design, implementation of design, and general supervision of the project.
The space overall, is a well-balanced and elegant combination of Japanese and Western elements, transporting guests into the world of Taisho Romanticism. It features Western damask wallpaper and traditional Japanese house ceilings and tiles, European furniture, Japanese wooden lattices, and Western style stained glass.
● Background of the birth of HOTEL ARU KYOTO
The world of Taisho Romance, a modernist Japan of about 100 years ago, as interpreted by an Italian designer.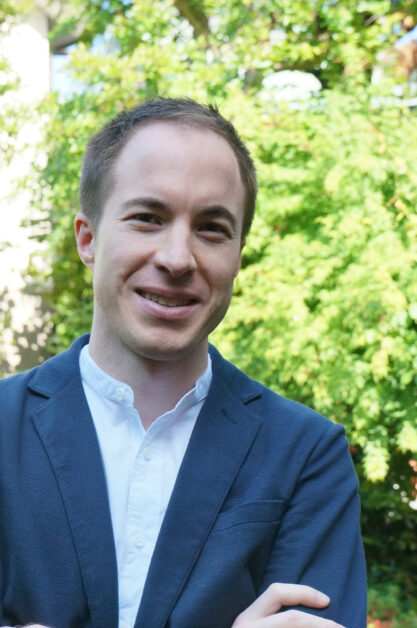 Italian designer Francesco Ristori was in charge of the design of this property. He studied architecture at the University of Florence and continued to work on residential and retail design as well as the restoration of historical buildings in Italy before coming to Japan in 2014, after which he joined Garde. 
To date, he is still involved in projects that allow him to demonstrate his experience and customs in Italy. So why "Taisho Romance"? Italians and "Taisho Romance" – At first glance, seems incongruous. However, the key to the success of this project lies in that "sense of incongruity".
The encounter between the Italian designer and "Taisho Romance".
He first discovered Taisho Romanticism when he joined the project, a style of Japanese art and culture expressed through a unique worldview. At first, he had the impression that it resembled the Western style, but as his learning deepened, he was impressed by this unique worldview created by incorporating new interpretations into Western architecture and art.
The more you learn about Taisho Romanticism, the more fascinated you become.
The Taisho era (1912-1926), which lasted only 15 years after the Meiji era (1868-1912), was a time of modernization and a blend of Japanese and Western culture. It was a time of contrasts between light and shadow, with urban glamour, but also social unrest caused by economic stagnation. He felt "a gentle melancholy and a spiritual longing" for the architecture and art that had a somehow somber atmosphere in contrast to the glamor of the era.
The Design of HOTEL ARU KYOTO
The overall design takes in the culture of the past and sublimates it with modern technology and taste in order to create a new space. It is not simply a matter of reviving an old-fashioned atmosphere but also creating a place where people can experience "Taisho Romanticism" in Kyoto, a new purpose to visit the city. He believes that it is a sustainable design that will generate modernism 100 years from now.
Click here for the designer profile
https://www.garde-intl.com/aboutus/?lang=jp
● Introduction of Facilities
The word "ARU" (meaning to exist in Japanese) refers to a hotel that continues to exist in a place beyond time. Sanjo-Kiyamachi Street was once a bustling lumber wholesaler district along the Takase River. Throughout the Edo, Meiji, and Taisho eras, the town was influenced by Western culture, but the universal values and the romanticism rooted in the town have been passed down from generation to generation.
While preserving the history and traditions of this town, the hotel creates new values and culture to weave a better future. Without being bound by a framework, they continuously incorporate new cultures. During this time, unique cultures were born in many fields such as architecture, design, and entertainment, including stonework and brick architecture, Japanese and Western interiors, and culturally, the establishment of the Takarazuka Revue and the popularity of cinema. HOTEL ARU KYOTO was born from the inspiration of a one-of-a-kind era and the architectural style of "Taisho Romance".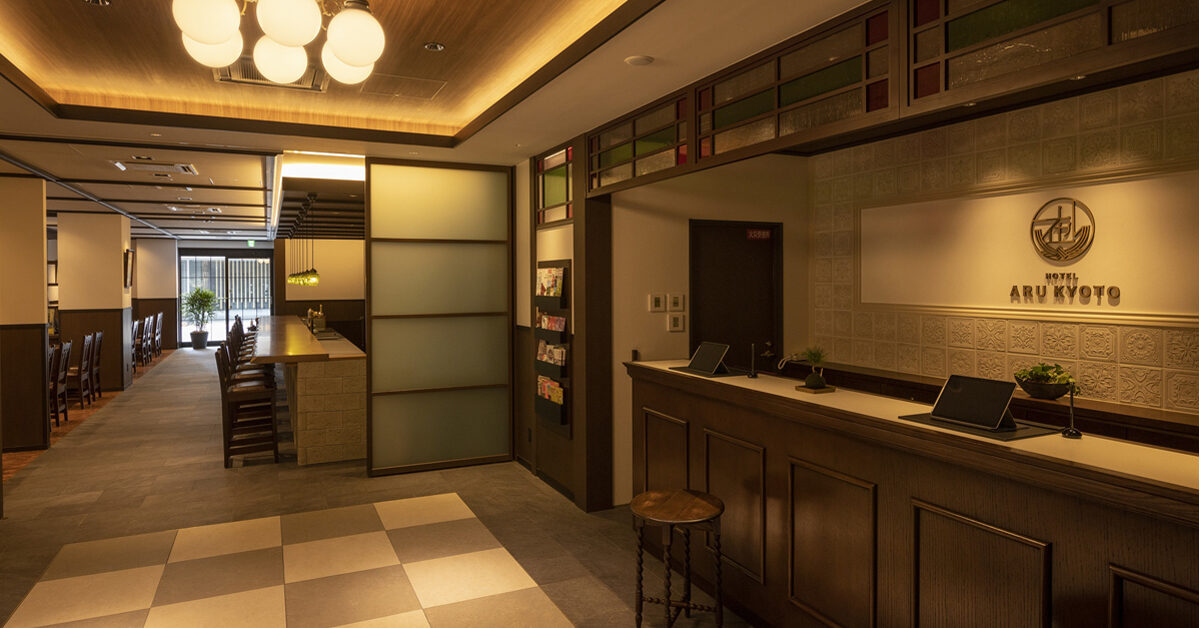 Front desk with a chic and modern interior.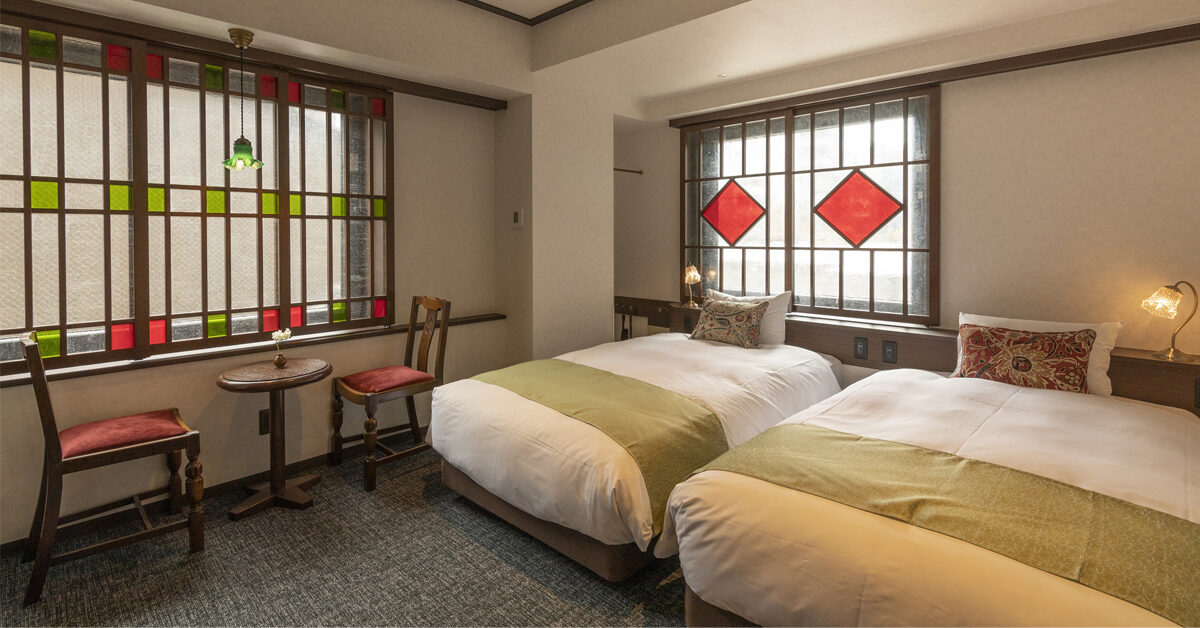 Rooms with pleasant light coming through the stained-glass windows.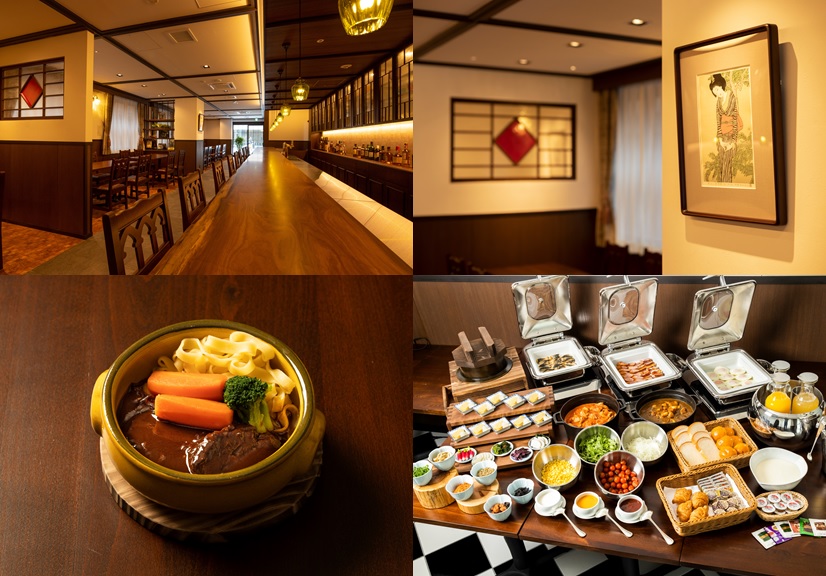 The designer's favorite authentic bar counter made of a single piece of wood. The dim, atmospheric lighting gives the place a "Taisho Romantic" air.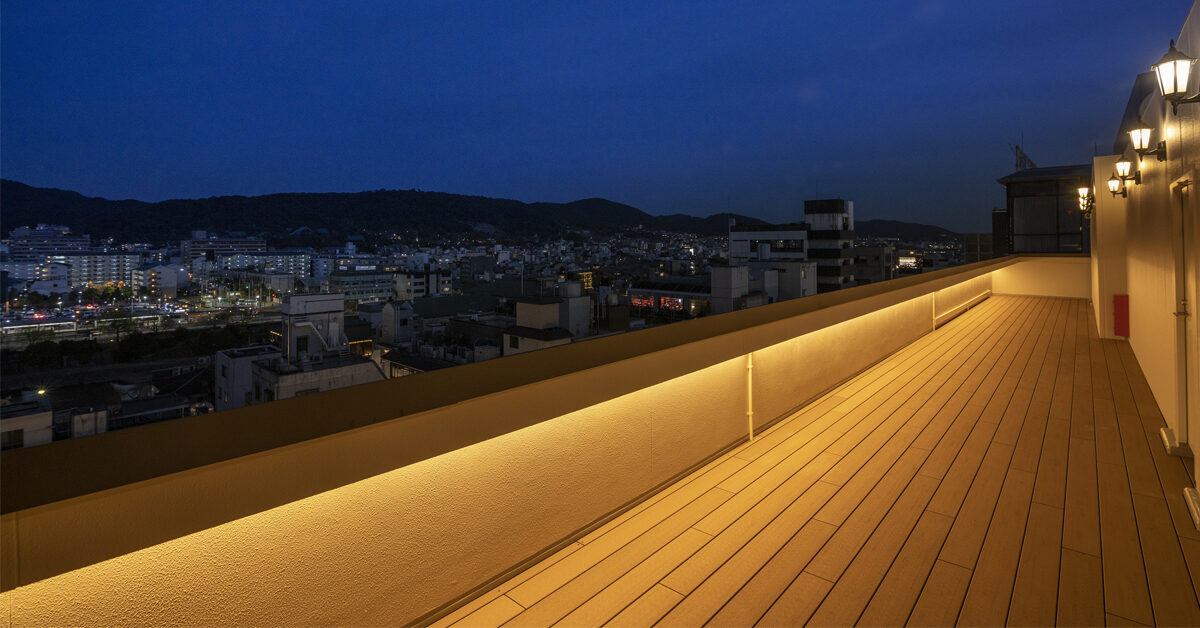 The rooftop overlooks the beautiful scenery of Kyoto and can be enjoyed as a beer garden in summer.
Facility Overview
–    Official name:HOTEL ARU KYOTO
–    Location: 48 Daikoku-cho, Sanjo-shitaaru, Kawaramachi-dori, Nakagyo-ku, Kyoto 604-8031, Japan
–    Use: Hotel (55 rooms, including 1 barrier-free room)
–    Scale: 9 stories above ground
–    Height: 29.50m
–    Structure: Steel-frame construction
–    Site Area: 391.44m2
–    Building Area:1707.30m2
Scope of work
Concept planning, facade, basic planning, basic design, implementation design, and supervision