Luxury travel and sustainability may have seemed like two mutually exclusive concepts, but ecologically sound tourism has swept the hospitality industry. Numerous hotel companies in Asia have progressively been encouraging environmentally friendly practices in sustainability through developmental and operational approaches. This is done in correlation to the United Nations World Tourism Organization research that international tourism generates five percent of the world's carbon dioxide emissions.
Embracing green practices as one of their core strategies, sustainable initiatives go beyond reforestation programs, eco-resorts and the implementation of energy-efficient practices, these stunning hotels and resorts in Asia allow you to check into comfort while reducing your carbon footprint.
1. The Marina Bay Sands–Singapore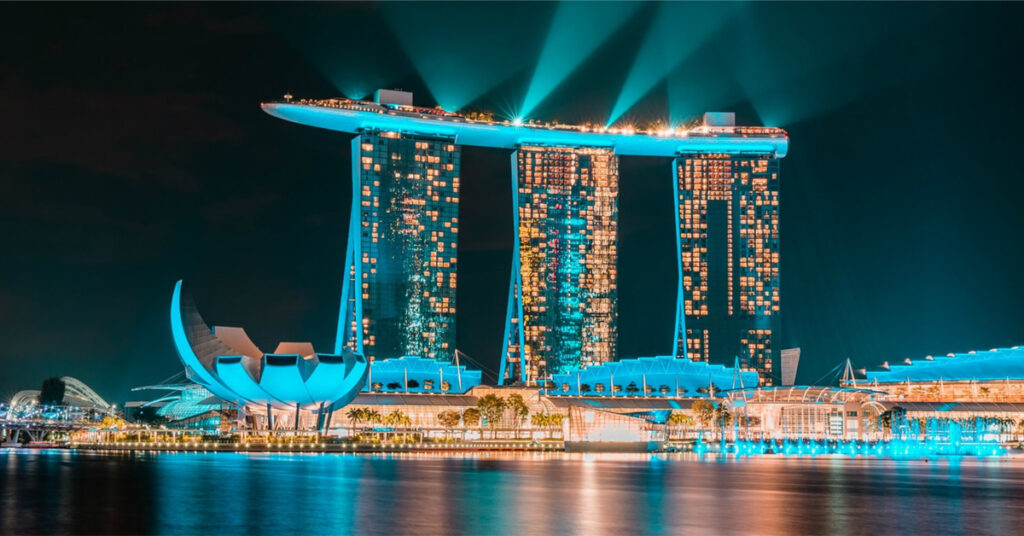 An integrated Luxury Hotel resort certified as the largest single Green Mark Building in Singapore with three, 55-story towers linked by a cantilevered roof with a park atop. It attracts nearly 45 million visitors per year.
Along with its US$18.8 million intelligent building management system that uses automation to resourcefully run water and energy, it features elevators with regenerative drives that use 40 percent less energy than traditional elevators, a water-saving system in its iconic infinity pool, energy-efficient LED bulbs in its guest room 2,561 guest rooms and an energy-saving chilled-water air-conditioning system. The "Green Meeting" spaces at Sands Expo and Convention Center utilize electronic sales tools, recyclable office supplies and authentic dishware and glassware in order to conserve paper, labour and shipping costs.
Devoted to supporting Singapore's approach to building a sustainable, resource-efficient, and climate-rich nation, Marina Bay Sands has fine-tuned their 2020 focus on the five key pillars: Climate Response, Water, Waste and Circularity, Sustainable Food and Culture, and Capacity Building. These pillars reflect their adaptive approach in their corporate sustainability and commitment to providing a top-notch experience to their patrons, all while aligning this to their mission to reduce the carbon footprint.
2. Grand Hyatt – Jakarta, Indonesia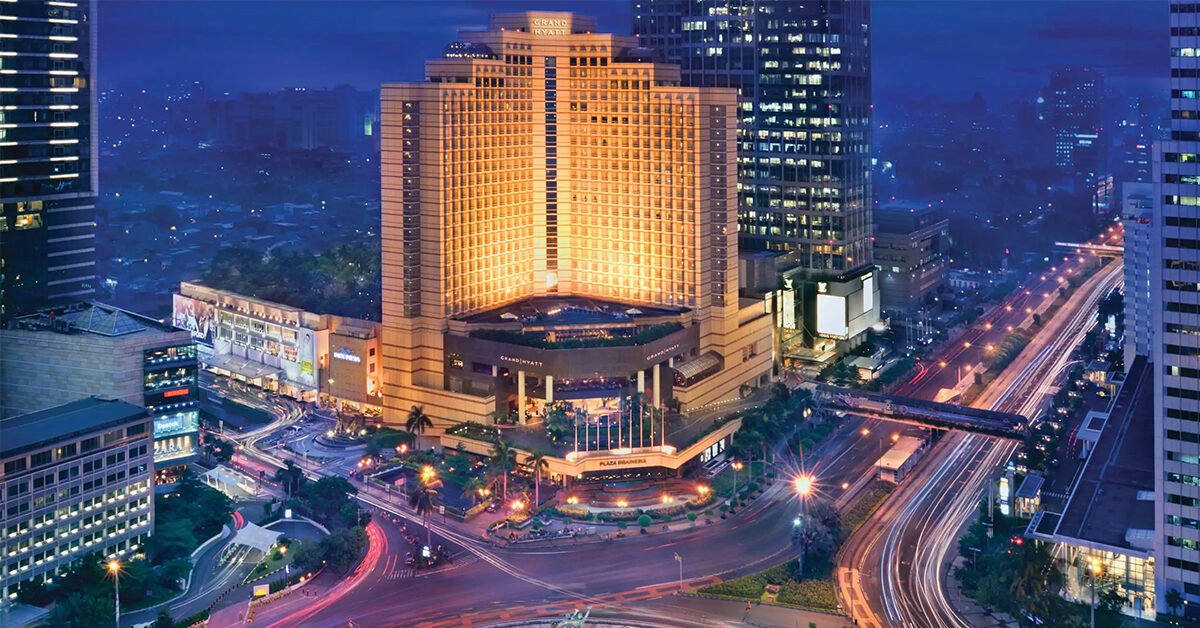 Set amongst a canopy of lush tropical trees, the five-star eco-friendly hotel pioneered the installation of 45 photovoltaic Solar panels as a sustainable approach to deal with climate change and environmental turmoil. The Grand Hyatt has also switched to energy-efficient LED light bulbs and installed motion sensor lights in various areas of the hotel, ensuring eco-friendly initiatives for energy conservation.
In terms of daylight strategies, the solar panels power up to 20 guestrooms daily, which decreases the carbon footprint by 400 tonnes of Carbon dioxide over 30 years, equating to around 170,000 liters of vehicular gasoline. Committed to environmental stewardship, they are gradually phasing out single-use plastic and replacing them with viable eco- friendly options. To raise more awareness around environmental sustainability, Hyatt introduced EcoTrack, a data monitoring system for energy and water consumption, waste generation, and greenhouse gas emissions for Hyatt-managed, full-service hotels globally.
For 2021, they refined their strategies to build upon ongoing efforts related to climate change, water stewardship, waste, sourcing, and caring for communities. Grand Hyatt is committed to envisioning a sustainable future while offering one-of-a-kind eco-space for their clients.
3. Soneva Kiri – Thailand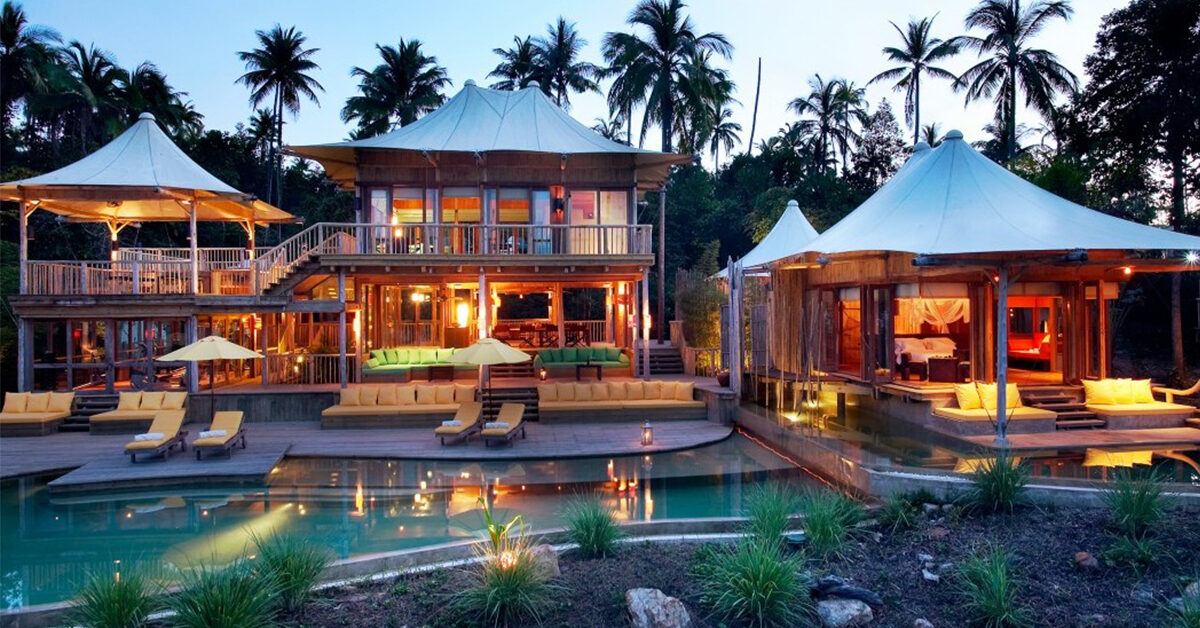 Nestled amongst natural rainforest and remote islands, this eco-luxury five-star resort sets the benchmark in luxury as well as sustainable tourism, upholding SLOW LIFE philosophy: Sustainable, Local, Organic, Wellness, Learning, Inspiring, Fun, and Experiences. Built-in prioritizing sustainability, this 100% carbon neutral resort planted more than 500,000 trees in Thailand, creating over 300 acres of affluent biodiversity and decreasing CO2 emissions by more than 250,000 tons. Dine confidently knowing that your meal was grown naturally in the resort's organic garden.
As a company, they progressively develop green initiative projects that create a positive impact on the environment, social and economic aspect through active recycling, organic farming, smart composting and water-recycling system. In February 2020, they inaugurated the opening of an Eco Center and water bottling plant where all the of the drinking water served is filtered, mineralized, alkalized, and bottled on-site in reusable glass bottles.
Soneva Kiri is carbon neutral, committed to include integrative, responsible tourism in their core operational strategy. They are closely working with natural environments to create exceptional experiences for their valued guests.
4. The Datai Langkawi – Malaysia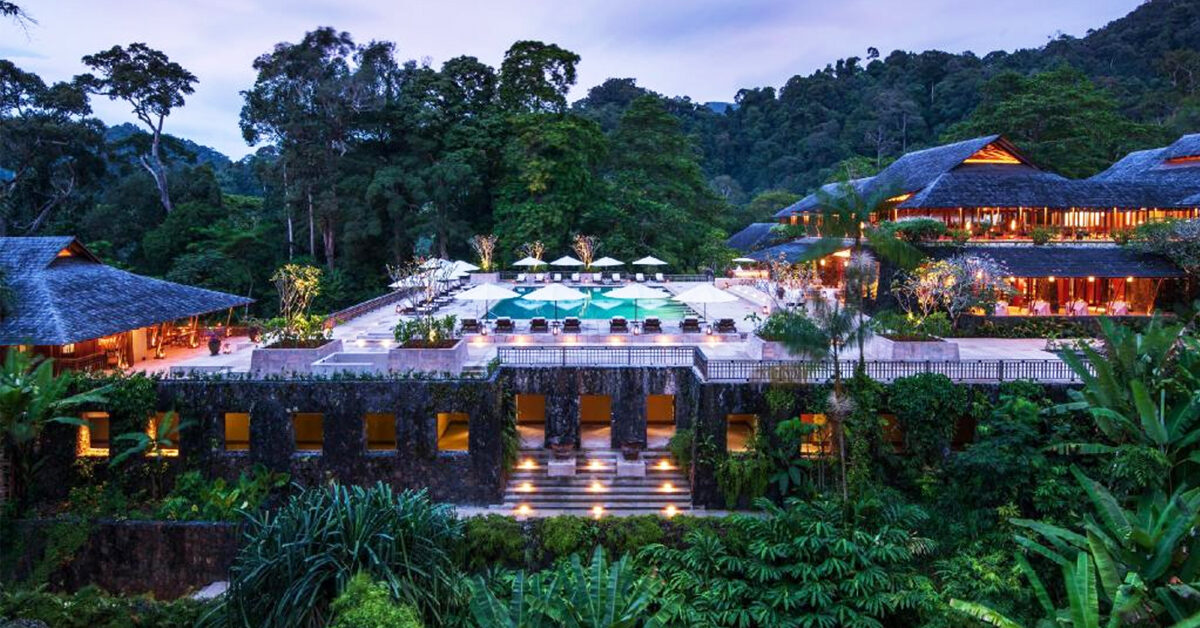 A luxurious eco-tourism resort situated in the heart of a 10-million-year-old rainforest, Datai Langkawi is the first resort in the world to join the EarthCheck ECO (Terrestrial) Certification Program which encourages sustainable tourism organizations to lessen their environmental footprints and support local communities while maximizing guest experiences with tranquil spaces and luxe facilities worthy of the resort's 5-star stature.
As a pledge to eco-friendly practices, the resort cultivated a Permaculture Garden and a self-guided tour of the Gulai House Trail, allowing guests to experience sustainable food production, fresh from farm to table. The organic wealth center features an organic worm farm which assists with the disintegration of buffalo manure and food waste to generate bio-fertilizer. This composting station converts 300 to 700kg of food waste daily. They also use a filtration system where the water from the sewage treatment plant is pumped to the wetlands to be purified by plants. Over the years, Datai Langkawi has made sustainability a key component to its strategy in protecting its unique natural habitat, while providing international quality service to global travelers.
5. Song Saa Private Island Resort – Cambodia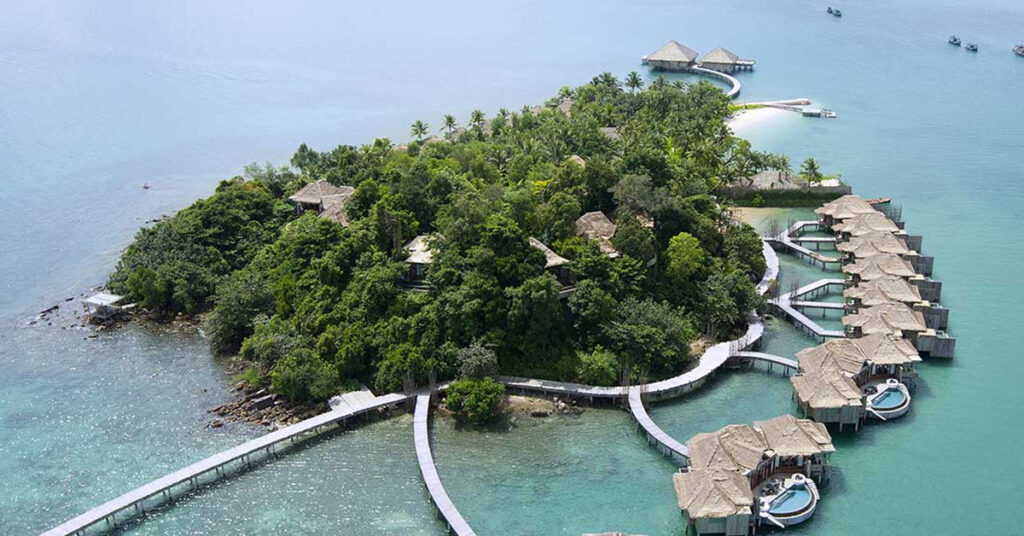 An eco-luxe resort basking in pristine nature at Koh Rong Islands, Song Saa takes pride in its resort aesthetic inspired by the natural environment and eco-friendly practices such as recycling, composting, and building with sustainable, locally sourced material.
Committed to minimizing the carbon footprint of importing construction materials, they sourced local sandstone for their villa structures and upcycled timber from disintegrated shipping boats from a nearby estuary. Resort furniture is crafted from high-quality driftwood from local beaches. The integrated resort also features a variety of bespoke art pieces printed on canvas and framed with wood sourced from recycled fishing boats. Song Saa upholds a 360-degree approach in sustainable tourism and hospitality committed to providing an eco-friendly experience for travelers.
Source:
https://www.unwto.org/news/tourisms-carbon-emissions-measured-in-landmark-report-launched-at-cop25
https://www.marinabaysands.com/content/dam/singapore/marinabaysands/master/main/home/environmental-sustainability/commitments/MBS-Sustainability-Highlights-Report-2019.pdf
https://www.ibcsd.or.id/ibcsd-events/sustainable-business-award-2017/
https://green-hotel.org/2015/09/11/a-luxury-eco-resort-in-thailand-2/
https://sg.asiatatler.com/life/eco-friendly-malaysian-hotels-on-our-travel-list-this-year
https://www.songsaa-privateisland.com/en/blog/2019/06/17/design/the-sustainable-design-of-song-saa/73-16/